Announcements
- REGISTRATION NOW OPEN!
- PRICING AVAILABLE FOR THREE OPTIONS:
- $1,400 COMPREHENSIVE TUTORIAL & TRAINING PACKAGE: INCLUDES UP TO SIX TUTORIALS AND UNLIMITED ACCESS TO AVAILABLE TRAINING SESSIONS

- TUTORIALS ONLY: PRICED A LA CARTE AT $195 EACH (UP TO SIX). NO ACCESS TO TRAINING SESSIONS

- BUNDLE REGISTRATION OPTION ALSO AVAILABLE FOR ATTENDEES INTERESTED IN SYMPOSIUM TECHNICAL SESSIONS.

FOUR-DAY TRAINING & CONTINUING EDUCATION
SEPTEMBER 19 - 23, 2021 | ORLANDO

---
PLEASE NOTE THAT WHILE THE FOUR-DAY TRAINING & CONTINUING EDUCATION OPPORTUNITY IS HELD ON-SITE CONCURRENTLY WITH THE 91ST SHOCK AND VIBRATION SYMPOSIUM, REGISTRATION AND ATTENDANCE TO THE TUTORIALS AND TRAININGS CAN BE EXCLUSIVE OF THE CONFERENCE.
Training will be offered via two different formats:
1) Tutorials: A tutorial is a 3-hour college level presentation that seeks to further educate attendees in specific areas of shock, vibration, or other topics of community interest.
Attendees will be provided comprehensive sets of notes detailing pertinent topic history, definitions, basic equations, where, who and why it is used, resources for additional education, and future developments.
A Certificate of Completion will be provided to each attendee, which can be used in some states for professional CEUs.
There are six time slots of tutorials available. Attendees may select only one tutorial to attend for each time slot.
2) Trainings: A training lecture is a 45-minute to 90-minute college level presentation that seeks to introduce people to a subject they are not familiar with.
Trainings are open for attendance based on attendee availability. Training sessions are scheduled based on meeting room and instructor availability.
Notes will be provided in some sessions, if provided in advance by the instructor.
No pre-registration for each training is required.
No Certificate of Completion is provided.
FOR A FULL LISTING OF AVAILABLE TOPICS, PLEASE DOWNLOAD THE TRAINING GUIDE.
---
VENUE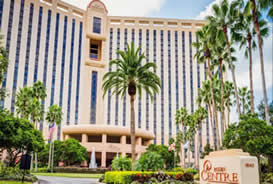 Rosen Centre Hotel
9840 International Dr
Orlando, FL 32819

Room rates for all attendees will be at prevailing per diem rates for 2021 in September.
Hotel may require a one night refundable deposit to hold the reservation.

---
REGISTRATION, FEES, AND CHECKIN
Please use the chart of fees below to plan your attendance.
Training & Continuing Education Options:


- $1,400 Training & Continuing Education Package (no attendance to Symposium); includes unlimited access* to available tutorials and trainings.

- $195 a la carte tutorials only (up to six); no access to training sessions or Symposium

- $2,000 per attendee includes registration to Symposium (technical sessions, community interest and development forums/meetings) and unlimited access* to available tutorials and scheduled trainings.


Download the Training Guide for full content description.

*excludes Limited Distribution material unless attendee meets all security requirements; assumes one tutorial per available time slot (max of 6)

A hardcopy of the registration form is available for download HERE. Please follow instructions for submittal on the form.


Check In Procedure:

During arrival to the hotel or prior to attending content, please visit the SAVE Registration Desk for badging and materials.

Guidance for on-site COVID precautions will be available closer to the event date based on Florida Department of Health and CDC guidelines.
FOOD AND BEVERAGE NOTES:
- Attendees will be have acces to water and coffee during tutorial and training sessions.
- No meals are provided on Sunday or Monday (September 19-20).
- Corporate Supporters/Exhibitors sponsor a breakfast and lunch for Symposium attendees on Tuesday and Wednesday (September 21-22), and a breakfast on Thursday (September 23). Training attendees are invited, but not required to attend; no costs for meals are included in the registration costs above.
- Other commercially organized and funded social events (Welcome Reception on Monday, September 20; Symposium Social on Wednesday, September 22) are open to Training attendees, if allowed by employing agencies.
---
SECURITY & ATTENDANCE REQUIREMENTS
There are typically three classifications* of presentations.
Below please find the descriptions and attendance requirements:
UNCLASSIFIED/UNLIMITED DISTRIBUTION A:
Open to ALL attendees, including non-US attendees and foreign nationals. Outside of the standard registration form, no additional paperwork or documentation is required.
UNCLASSIFIED/LIMITED DISTRIBUTION C:
(Reference: DoD Instruction (DoDI) 5230.24, Distribution Statements on Technical Documents)

Access authorized to U.S. Government agencies and their contractors with an established "need-to-know".

UNCLASSIFIED/LIMITED DISTRIBUTION D:
(Reference: DoD Instruction (DoDI) 5230.24, Distribution Statements on Technical Documents)

Distribution authorized to the Department of Defense and U.S. DoD contractors only, with an established need to know on a valid DoD contract.




*PLEASE NOTE THAT OTHER CLASSIFICATIONS AS LISTED IN DOD INSTRUCTION (DODI) 5230.24 CAN BE EXERCISED BY PRESENTERS AND/OR SPONSORING AGENCY. IN THE EVENT PROGRAM, EACH SESSION WILL BE CLEARLY MARKED WITH SESSION CLASSIFICATION.

--

PLEASE ALSO NOTE THAT EACH INDIVIDUAL PRESENTER OR SPONSORING AGENCY HAS FINAL APPROVAL OF ATTENDANCE REQUIREMENTS AND POTENTIAL OTHER RESTRICTIONS. SAVE WILL DENOTE THESE REQUIREMENTS AS CLEARLY AS POSSIBLE, WHERE APPLICABLE.