ANNOUNCEMENTS
- TECHNICAL PROGRAM NOW AVAILABLE!
- REGISTRATION NOW OPEN!
---
VENUE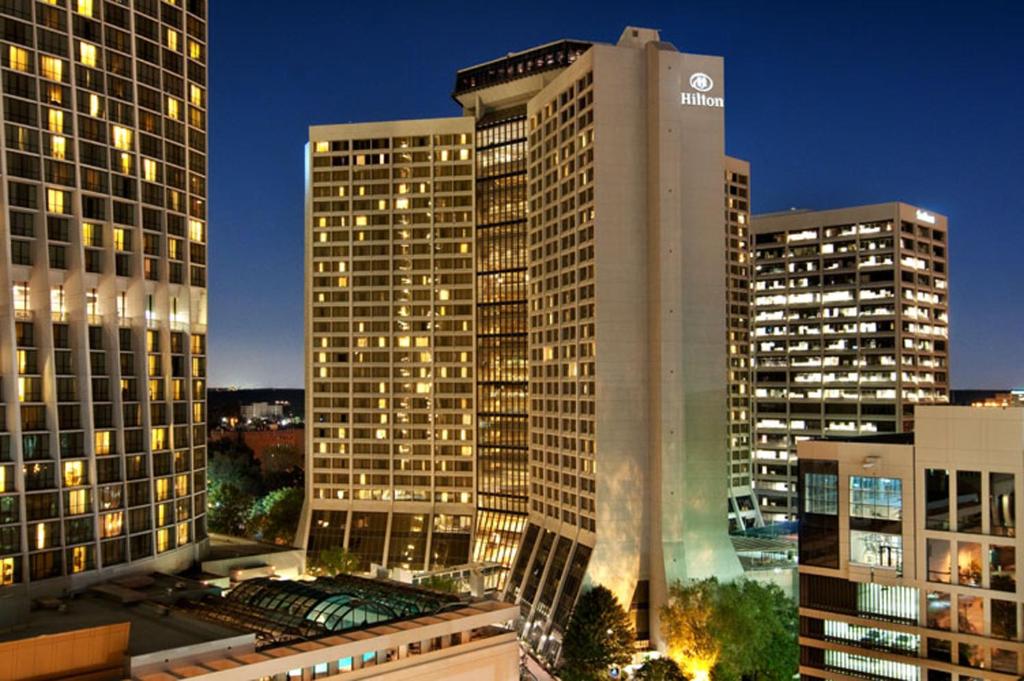 Hilton Atlanta*
255 Courtland Street NE
Atlanta, GA 30303
*Room block at reduced negotiated nightly rate of prevaliing per diem at the time of the event. Reservations will be accepted under the block through September 1, 2023 or until full.
93RD SHOCK & VIBRATION SYMPOSIUM
SEPTEMBER 24-28, 2023 | ATLANTA, GA

---
The annual Shock and Vibration Symposium is the leading forum for the structural dynamics and vibration community to present and discuss new developments and on-going research. The Symposium was established in 1947 and typically includes both unclassified (unlimited and limited distribution) and classified sessions. Topics covered at the symposium include shock-ship testing, water shock, weapons effects (air blast, ground shock, cratering, penetration) shock physics, earthquake engineering, structural dynamics, and shock and vibration instrumentation and experiment techniques. Over 200  technical papers are typically presented. Panel discussions address topics such as new software developments or accelerometer isolation problems. Tutorials provide up-to-date technology overviews by leading specialists.
HI-TEST Laboratories is responsible for all planning and operational aspects of the symposium. 
This will be HI-TEST's 21st consecutive year of running the annual Shock and Vibration Symposium.
---
TECHNICAL PROGRAM
The Technical Program, quality of content, and exchange of information are the heart of our annual event. Please download the program to review the Symposium agenda.

DOWNLOAD TECHNICAL PROGRAM

DOWNLOAD ABSTRACT BOOK
PRESENTER TOOLS & NOTES:
PowerPoint Presentations will be due approximately one week prior to the start of the Symposium for upload to the session computers. Please upload your files here.
Final manuscripts for publishing onto the annual Proceedings will be due February 28, 2023. For additional information regarding formatting, please download our Author's Package.
---
EXHIBITORS
Each year our Exhibit Hall has continually improved and expanded. 2022 was a record setting year for SAVE for both number of exhibitors and number of Corporate Supporters. Our Exhibit Hall is unparalleled for access to technical attendees who also serve as decision makers for product and vendor selections in their organizations. Don't miss out on the opportunity to participate at our event.
The Exhibitor Prospectus is now available for all companies wishing to register as an exhibitor. Use the links below to download the Exhibitor Prospectus and register accordingly.
PLEASE CONTACT OUR STAFF AT 434.581.3041 WITH QUESTIONS.
---
REGISTRATION
Online Registration is now OPEN!

Tutorials listed on the existing form are subject to change. Additional tutorials may be added as event planning progresses. There are no change fees for altering course selections. For full abstracts of current courses available, please download the Technical Program.
Please use the fee schedule below to plan your attendance. Should you have any questions about registration topics not covered in other information on our website, please contact Ashley Shumaker.
---
FEES
Please use the chart of fees below to budget and plan your attendance for the 93rd Shock and Vibration Symposium.
Standard Registration Fee*:

$895 Early Fee (through August 15, 2023)
$995 Standard Fee (on/after August 16, 2023)




*There is a $250 cancellation fee for applied to all registrations after August 24.


Undergraduate Student Fee:
$200 (Student ID may be required)


Tutorial Instructors:
Complimentary


Corporate Supporters:
See Exhibit Packages


Exhibit Hall ONLY:

Each standard booth includes up to three* (3) exhibit support staff at no additional fee. However, registration IS required. No technical content is included in the exhibit badges.

Additional exhibit staff beyond the package allowance are $200/each. This does not include technical content.

*Corporate Supporter packages include additional badges. Please see Exhibitor Prospectus for full breakdown.

ADD ON: Tutorials

$225 each* / up to six timeslots per attendee (unless otherwise noted)

One FREE Tutorial for each Presenter

- Only ONE tutorial for each presenter; however, additional presentations by the same presenter can "earn" a tutorial to be transferred to another colleague. All presenters will receive a promo code at abstract acceptance to be used during the online registration process. If you did not receive the email, please contact our staff.

- No dollar value transferrable to reduce registration cost.



NEW:
Training & Continuing Education Bundle


Options:

- $2,000 per attendee includes registration to Symposium (technical sessions, community interest and development forums/meetings) and unlimited access to available tutorials and scheduled trainings.


*excludes Limited Distribution material unless attendee meets all security requirements; assumes one tutorial per available time slot (max of 6)
*Please note that all meals are paid for using revenue from Exhibitor and Corporate Supporter/sponsorship fees. No cost for meals are included in individual attendance fees; however, these meals are offered to all Symposium attendees and exhibit support staff. Meals offered include breakfasts on Tuesday, Wednesday, and Thursday, along with lunches on Tuesday and Wednesday.
---
SECURITY & ATTENDANCE REQUIREMENTS
A Security Form must be completed for anyone intending to attend Limited Distribution sessions.


There are typically three classifications* of presentations at our annual Symposium. Below please find the descriptions and attendance requirements:
UNCLASSIFIED/UNLIMITED DISTRIBUTION A:
Open to ALL Symposium attendees, including non-US attendees and foreign nationals. Outside of the standard registration form, no additional paperwork or documentation is required.
UNCLASSIFIED/LIMITED DISTRIBUTION C:
(Reference: DoD Instruction (DoDI) 5230.24, Distribution Statements on Technical Documents)

Access authorized to U.S. Government agencies and their contractors with an established "need-to-know".

UNCLASSIFIED/LIMITED DISTRIBUTION D:
(Reference: DoD Instruction (DoDI) 5230.24, Distribution Statements on Technical Documents)

Distribution authorized to the Department of Defense and U.S. DoD contractors only, with an established need to know on a valid DoD contract.

*PLEASE NOTE THAT OTHER CLASSIFICATIONS AS LISTED IN DOD INSTRUCTION (DODI) 5230.24 CAN BE EXERCISED BY PRESENTERS AND/OR SPONSORING AGENCY. IN THE EVENT PROGRAM, EACH SESSION WILL BE CLEARLY MARKED WITH SESSION CLASSIFICATION.

--

PLEASE ALSO NOTE THAT EACH INDIVIDUAL PRESENTER OR SPONSORING AGENCY HAS FINAL APPROVAL OF ATTENDANCE REQUIREMENTS AND POTENTIAL OTHER RESTRICTIONS. SAVE WILL DENOTE THESE REQUIREMENTS AS CLEARLY AS POSSIBLE, WHERE APPLICABLE.
---