Announcements
- Exhibitor Prospectus NOW AVAILABLE!
- Registration Form NOW AVAILABLE!
Sponsors
FEATURED:
- HI-TEST Laboratories
SILVER:
- NVT Group (Lansmont Corp., Team Corp., Data Physics Corp.)
- Huntington Ingalls Industries
BRONZE:
- Autodesk
- National Technical Systems
- PCB Piezotronics
- Spectral Dynamics
87th Shock and Vibration Symposium
October 17 - 20, 2016 | New Orleans

---
The annual Shock and Vibration Symposium is the leading forum for the structural dynamics and vibration community to present and discuss new developments and on-going research. The Symposium was established in 1947 and typically includes both unclassified (unlimited and limited distribution) and classified sessions.  Topics covered at the symposium include shock-ship testing, water shock, weapons effects (air blast, ground shock, cratering, penetration) shock physics, earthquake engineering, structural dynamics, and shock and vibration instrumentation and experiment techniques. Over 200  technical papers are typically presented. Panel discussions address topics such as new software developments or accelerometer isolation problems. Tutorials provide up-to-date technology overviews by leading specialists.
HI-TEST Laboratories is responsible for all planning and operational aspects of the symposium. 
This will be HI-TEST's 15th consecutive year of running the annual Shock and Vibration Symposium.
---
EVENT INFORMATION
Venue:
Sheraton New Orleans
500 Canal Street
New Orleans, LA 70130
A special block of rooms has been reserved for this event at prevailing per diem.

Online Reservation Link: 87th Shock and Vibration Symposium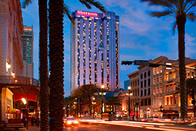 ---
Abstract Submittal

Please use the links below to submit technical content to our 87th Shock and Vibration Symposium. Our staff and Technical Advisory Group will review the abstracts at our summer meeting. Authors will be notified of formal acceptance into the 87th Symposium Technical Program by August 1, 2016.
General Abstract Submittal- Please use this link to submit a general paper abstract.
Dedicated Session Submittal - Please use this link to submit a paper that will be grouped and presented with like-papers by a dedicated organizer.
Tutorial Submittal - Use this link for three-hour specific topics for which attendees will receive a certificate of completion. Our attendees are charged an additional fee for this type of presentation. Tutorial instructors receive complimentary attendance to the Symposium.
Training Submittal - Use this link for 45-minute or 90-minute specific topics. These trainings are available to Symposium attendees at no additional cost and are built into the technical program.
Discussion Group Submittal - Use this link to chair/organize an open-discussion on a particular topic.
Meeting Submittal - Use this link for informal or formal meetings to be led by a mediator/chair.
Panel Submittal - Use this link for topics that are of interest to a large audience. Panels should have 3-6 members.
---
Exhibitors
We are pleased to offer corporate support packages, sponsorship opportunities, participation in our Passport Program, and participation in a special Vendor Track for exhibitor corporate presentations.
Download Exhibitor Prospectus Now!
Please check back often for updates to the exhibitor floor plan and sponsorship opportunities.
Contact Ashley Shumaker at 434.581.3041 with questions.
---
Event Registration
Online Registration Form - Available here.
Please note that there is a link to a printable version in the heading of the link above.
Schedule of Fees:
Early Registration Rate (before Sept. 1):
$845
Standard Registration Rate (after Sept 1):
$945
Student (Undergraduate; ID Required)
$100
Discounted Exhibitor Registration
(2 per standard booth; add $100 after Sept. 1)
$645
Tutorials (three-hour courses); maximum of 5
$195 each
Tutorial Instructors
Complimentary